Maskcara Beauty.  If you haven't heard all about it by now then you are only one in a few.  The make-up brand specializing in 3D foundation and contouring has been around for a few years now, started by makeup artist and blogger Cara Killpack.  The direct sales part of it however, is super-new.  Their sales plan launched in mid January 2017 and has become the fastest growing direct sales company in the US!  I am here to tell you that you should not pass up the opportunity to be a part of this fast-growing company that is at ground level.  If you have been considering becoming an artist for Maskcara Beauty, here are a few things that you may want to know:
*This post was written in March, 2017.  Some information may have changed since then.
Why Maskcara Beauty?
Maskcara is redefining the makeup routine.  We believe that makeup should enhance a beautiful face, not cover it up. We believe that women are more beautiful (inside and out) than they give themselves credit for. If you want to join the mission to do that then here is all the info you'll need to know.
First of all, enrollments have been hot and heavy; everyone is excited about joining.  In Maskcara's two months of existing the company has had to temporarily close down enrollments so they can catch up with their inventory and keep up with the high demand of sells.  This is a great reason to not hold back if you're thinking of joining and enrollments are currently open.  You never know when they are going to close and for how long.
When you have decided to become and artist for Maskcara Beauty, you will sign up and choose your kit HERE, at their becoming an artist page.  There are two kits to choose from that have everything you'll need to get started right away with color-matching people with the makeup.  The kits are very affordable ranging from $199-$399, that's it.  That is the only fee you'll pay up front to get started.  The price is such a low starting point compared to a lot of other companies, and that pays for literally everything you need.  For further detailed instructions on the enrollment process, see my "How to Enroll" page.
**You may be wondering if there is a minimum sales requirement every month to maintain your artist status and the answer is NO.  This is one of the many reasons people love being in this company because they don't feel pressure to have to sell every month.  You will not be penalized if you don't sell certain amount.  If you want to become an artist just for your 20% discount as an artist and only sell to family, then that's just fine.  On the flip side, if you want to become an artist and sell lots of makeup each month, build a team, hit ranks; then that's just fine too!  You can tailor it to however much work you'd like to put into it.  That said, when you start building a team and having a downline, there is a small amount you must sell every month in order to earn downline commissions, but I think you'll find that those minimums are very easy to achieve.
The base commissions are awesome.  You will make 20% commission on your sales and depending on how much you sell can make up to 40% base + bonuses.  On your downline you will make 2%-12%+infinite commissions.  Oh, and something really cool is that everything you personally buy for yourself counts towards your monthly sales volume!  (insert high-five emoji here).  And I didn't mention this before, but the kit you buy also counts towards your sales volume!
Maskcara has made it so that all your work on earning customers won't be forgotten.  Once a customer buys makeup under you they will be your customer for life; yes, for life!  Loyalty is very important to us.  Each time that customer logs in to reorder or order something new, the system will recognize that its your customer and you will get the commission!  Isn't that awesome?  Plus, the fact that they can just get online and order themselves is awesome all by itself!
Something I've really admired about this company is that Cara, the creator, is very hands-on.  She offers trainings, live webinars, has a Facebook group just for artists and is very active in that group.  I love the passion she has not only for the company but also for each and every artist.
Speaking of passion, once you join you will become a part of an amazing tribe of women who are all passionate about helping other women feel confident and beautiful.  The community of artists are so encouraging and helpful to other artists.  I became an artist for Maskcara two weeks after the sales portion started and have been so amazed by it.  It's been so much fun and very successful in my short time of being a part of it.
If you have any questions please feel free to email me, info@kamiwatson.com – I'll be glad to guide you, just put "Maskcara Artist Question" in the subject line.  There is a compensation plan I can send over to you if you are interested to see the ranks and pay.
Below is a comparison sheet of Maskcara Beauty to a few other direct sales companies you may have heard of.  Keep in mind that this was made in March 2017, as some of the numbers may have changed due to amazing growth.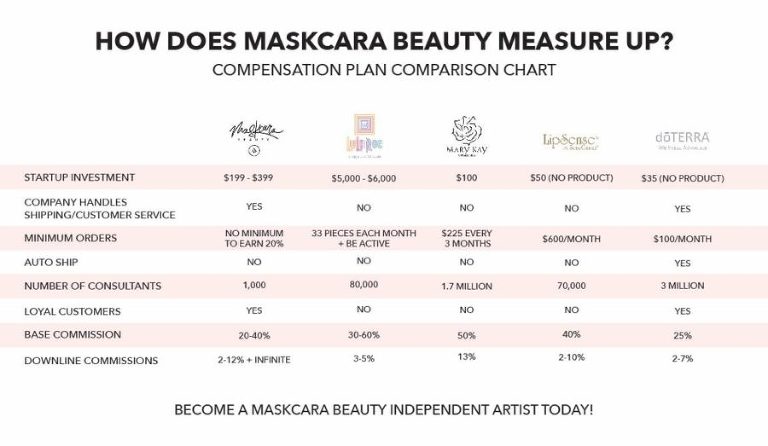 So if all of this makes your heart skip a beat and you are excited to start a new journey where you not only can make so money but also meet a lot of incredible ladies, then don't hold back.  Take the leap just like I did!  You have nothing to lose and you will not regret it!  I would love it if you want to be a part of my amazing team.  It is growing so quick and we have a super-fun group.  I will work with you one-on-one at first with all the tools and resources you need to get started and be successful.  To register under me click HERE, or follow the step-by-step instructions HERE.  My artist number is 1437.  I will be in touch with you shortly after you sign up for further instructions and to officially welcome you to my team!
Here is what currently comes in the kits:

SEE ALSO Why I Became an Artist for Maskcara Beauty.
and
How Maskcara Makeup Makes My Mornings Easier